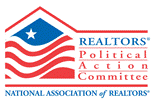 Since 1969, the REALTORS® Political Action Committee (RPAC) has promoted the election of pro-REALTOR® candidates across the United States. The purpose of RPAC is clear: REALTORS® raise and spend money to elect candidates who understand and support their interests. The money to accomplish this comes from voluntary contributions made by REALTORS®. These are not members' dues; this is money given freely by REALTORS® in recognition of how important campaign fundraising is to the political process. RPAC doesn't buy votes. RPAC enables REALTORS® to support candidates that support the issues that are important to their profession and livelihood.
Influence your elected officials and answer NAR's Call to to Action at the REALTOR® Action Center. When Congress is considering legislation that affects the real estate industry, NAR calls on its members to act. Simply by contacting your Member of Congress through an e-mail or a phone call, you can ensure that your business remains strong. NAR members join together and speak with one loud, powerful voice. 
MNCAR encourages all members to vote in all local, state and Federal Elections. 
Find your polling place HERE
Get access to the best performers in the commercial real estate industry along with top tier educational programming and networking opportunities! With a 1200+ membership base, MNCAR members represent 95% of the listing agent population in the metro area. In addition to broker memberships, MNCAR is proud to offer Affiliate Memberships to vendors, sponsors, and top industry resources also.