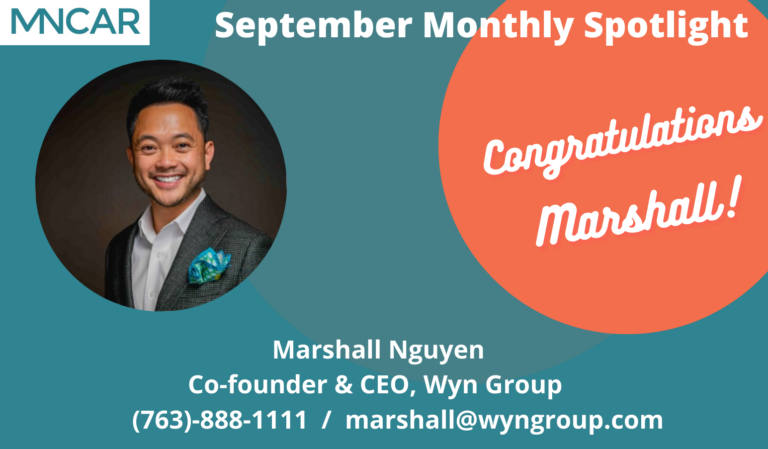 MNCAR –  Monthly Spotlight- Marshall Nguyen, Wyn Group
1.   Why did you join MNCAR and how long have you been a member? 
I joined MNCAR in 2017 to establish vital connections and gain access to the CRE community in Minnesota. It has proven to be the optimal platform for advancing my career in commercial real estate.
2.   In one sentence, what do you want MNCAR members to know about your business?
I specialize in investing in and brokering commercial real estate, with a focus on repurposing existing buildings and turning malls into Asian lifestyle shopping centers across different parts of the U
S.
3.   Name one fun fact that makes your company or yourself different from others.
We are a team of young individuals who are very passionate about commercial real estate.
4.  What would you tell other CRE professionals about the need to join MNCAR?
Proximity and access to people are powerful!
5.  What is the most encouraging thing you see for the future of the CRE industry?
I'm thrilled to witness the transformation in the retail industry. As someone who frequently travels abroad, I've noticed that many countries are a decade ahead of us. This inspires me to believe that the US will continuously strive to keep up with the changing landscape.
6.  What was your most interesting project of the year and why?
Pacifica of Burnsville! We are taking on the challenge of revamping the mismanaged Burnsville Center mall. Our exciting plans involve transforming a large box connected to the mall into a renowned Asian grocery chain, complete with an international food hall. This will drive more foot traffic to the center which will help other retailers and vice versa.
7.  Favorite CRE event of the year and why?
MNCAR Expo to catch up with industry friends and applaud the award winners for their outstanding achievements and hard work.
8.  Something that took you a long time to learn in the CRE industry?
Understanding what constitutes a good or bad investment takes time and experience. I'm almost there!
9. What do you enjoy most about the CRE industry? 
Build lifelong relationships with partners, clients, and industry friends. Real estate (CRE) offers long-term career opportunities. The more people you help, the more luckier you will become.
10. What's one thing – either industry-related or not – you learned in the last few months?
We help create more opportunities in the work place.
11. Who inspires you in the CRE industry or in your personal life?
My family inspires me every day to become the best version of myself.
12. Any advice you have for someone considering the CRE industry?
Every establishment you walk into is an opportunity. Commercial real estate (CRE) is more than just a 9-5 job; it's a lifestyle.
13. What's the next place on your travel bucket list? 
14. What are you currently binge-watching? 
15. What do you think is going to be the next HOT CRE-related topics?
More Regional Mall conversions into mixed-use projects.
16. What has been your biggest professional achievement?
We introduced and spearheaded the first Asia Mall project in MN, as well as the Pacifica of Burnsville project.
17. If you could collaborate with anyone, who would it be? Why?
We would be energized to collaborate with Simon Property Group as we believe our unique expertise can drive increased foot traffic and attract a diverse demographic to regional malls.
18. Any other fun information you would like to share?
I'm delighted to be here and deeply grateful for everyone's support and friendship.
Submit yourself or a colleague for a Monthly Spotlight by emailing lindsey@mncar.org